Senlips is a senior brand in the market and has produced some brilliant LED bars with some really cool features at a great price range. The Senlips 52-inch 300W LED bar is no different. It is packed with a number of features that will surely fulfill all your off-road lighting needs.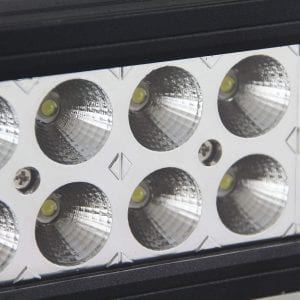 This LED light bar model is IP67 approved, which means it has a high resistance to water and the material prevents it from any leakage. It easily attaches to any of your vehicles, be it 4x4s, SUVs, Trailers, and Vans etc. The operating voltage of the LED is around 10-30V.
This Senlips 52" light bar illuminates 22,000 lumens and is considered super bright by a number of customers. It has a combo beam with 60 degrees Flood beam and 30-degree spot beam, catering to multiple requirements of the customers. Adding to that is the 6000k color temperature of the bar that makes your rides extremely comfortable and gives you a safe driving experience with maximum visibility.
Usage time of the LED is similar to all leading brands in the market i.e. 30,000 hours. Considering the high quality of the LED and the material in which it is housed – it is a certainly a bargain at this price.
The aluminum die-cast housing exceeds the life of the product and increases irradiations of the product. The product is ideal for people who have various uses of high-intensity lights; the product is widely used in an emergency situation, camping, off-roading experiences at night etc.
This Senlips 52" 300W comes with 100 pieces of 3W high-intensity LEDs, mounting brackets, screws, nuts and a standard 24-month warranty by the manufacturer. So never worry about your product being damaged, their experienced after sales team takes care of all your problems.
What do the customers say?
The customer reviews for the Senlips 52" 300W LED Light Bar are mixed. The pricing of this product is great considering the quality it offers. It gets the job done without any issue. However, some customers did complain that it produces noise at higher speeds. Another drawback is this LED light bar does not come with wiring harness, and gives way at extreme temperatures.
Package Includes: Senlips 52" 300W Led Light bar, mounting brackets, screws, nuts and 24-month warranty.
Features: 
Led Light Bar, Senlips 52" 300W Flood Spot Combo Beam IP 67 Waterproof for Off-road Vehicle, ATV, SUV, UTV, 4WD, Jeep, Boat- Black
Apply to more vehicles with power 300W, 10-30V operating voltage of led work light bar.
22000LMS, Combo beam with 60 degrees Flood beam, 30-degree spot beam, 6000k color temperature bring you comfortable and safe driving experience.
IP67 waterproof standard protects your light bar from leaking. Die-cast aluminum housing gives your light bar a polished look and wide working temperature (-40°C – 85°C)
High quality and eco-friendly led guarantee you 30,000 hours using time.