The name Senco may not ring out like Makita or DeWalt, but it's a moniker you'll remember after using a few tools from their vast lineup. The Senco PC1010 is another option that's lightweight and won't break the bank provided you don't need a compressor for heavy-duty work.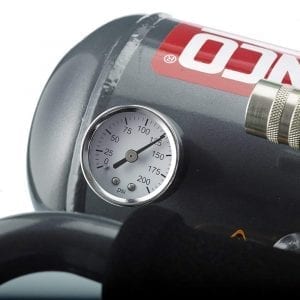 Do you make a living selling airbrushed works of art on ETSY or need a small compressor for projects around the house?
If so, the PC1010 may be the solution for you as it only weighs 20 pounds. It has a 1-gallon tank with a max capacity of 125 PSI which gets its air from a 1HP oil-less motor. That's peak, however, as it can only do .5HP while running.
The size of the Senco PC1010 makes it an instant option for the best small air compressor, but you're not just limited to crafts or airing up the occasional tire.
It's rated for around 20-44 drives per minute and capable of delivering 0.7 SCFM at 90 PSI. According to consumers like Charles, the "compressor can fire 10-12 brad nails at 60 PSI before the compressor kicks back on." Not too shabby for its size...
With some compressors, you'd be left wondering about the recovery time, but not this one. The pump-up time lis listed at 128 seconds and a recovery time is around 35 seconds.
Still on the fence about what this little machine can do?
This quick breakdown of the Senco PC1010 may help ease your mind…
The Senco PC1010 comes with the usual extras out of the box including a regulator, pressure gauge, air filter and a 1/4" coupler.
That will get you started, but you'll quickly find yourself hitting up the hardware store when it's time to air up a ball or tire, or clean out the gutters.
If you're sans accessories, this 17-piece inflation kit will undoubtedly do the trick.
You can check out the owner's guide for the Senco PC1010 here.
Features
Direct drive induction motor
120 PSI (Max)
Pressure gauges and regulator
Thermal overload
1-year warranty