The manufacturer Ryka designs footwear specifically for women, so the RYKA Women's Influence Cross Training Shoe has a narrower heel, a roomier forefoot, a higher instep, and a more secure footbed.
The good …
We found overwhelmingly positive feedback on this shoe because of its construction: it is lightweight and flexible–thus great for kicks and jumps–yet stable. Zumba instructors as well as students who attend class at least three times per week love the shoe's overall support (including arch support and forefoot cushioning) that allows them to bounce and jump without any knee, ankle or hip pain. The absence of pain means these athletes can work harder and progress in Zumba–a win, win for the body and mind! The shoe's structure also provides ample support for great side-to-side mobility.
Also important is the grip of the RYKA Women's Influence Cross Training Shoe's sole. Great for turning, twisting and pirouetting, the sole moves easily across the floor; many reviewers even point out that they wear these shoes while dancing on carpet. Even better, the sole has pivot point under the ball of the foot, making spinning easy.
The bad …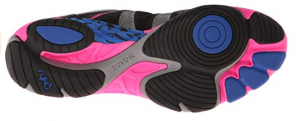 But we still discovered several users that disagree with some of the positive feedback. Some people commented that they wish the shoes were more flexible (especially the sole), had more support for impact (especially for the ankles), and even more cushioning under the balls of the feet. More than a few wearers complained the RYKA Women's Influence Cross Training Shoe does NOT have great glide ability, but grips or sticks to the floor.
The RYKA Women's Influence Cross Training Shoe runs true to size for some consumers but others feel it runs a half or whole size too small. Some people like the narrow heel box while others find the toe box too narrow.
The not-so-ugly …
Most wearers agree on the RYKA Women's Influence Cross Training Shoe's attractive appearance. "Sporty", "energetic", and "bright but not just obnoxiously fluorescent" were words used to describe the shoe's array of available colors. The shoe's breathable mesh upper and stylish design keep the Zumba athletes feeling cool physically and in attitude.
Watch this review of the RYKA Women's Influence Cross Training Shoe by an experienced Zumba dancer.
Features
Synthetic and mesh upper
Lace-up front
Padded tongue and collar
Comfort Fit Precise-Return bouncy insole
Pivot point under ball of foot