If you want a simple and elegant meat grinder for your kitchen, the ROVSUN 8 is a great choice. It's small and doesn't produce a lot of noise, so it would fit perfectly next to a portable oven on any family countertop.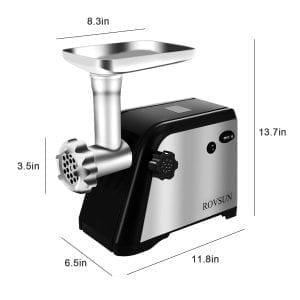 This grinder is not extremely powerful and it can't grind very large quantities of meat, but if you just want something for a hobby or family meals, it's a good choice. The motor is powerful and our research showed it has no problem grinding any type of meat.
And guess what:
With a safety micro switch, this grinder is extremely safe and you can be sure there won't be any splashing. It can grind up to 1.7 pounds of meat in eight seconds. It's extremely easy to set up and maintain.
The only downside to this grinder is that it's quite small, and the motor heats up after about an hour of use. When we were doing our research, we found that it's best to let it cool for 15 to 20 minutes after every hour of use.
Features:
Dimensions: 8.7 x 7 x 10 inches
Weight: 2.6 pounds
300W pure copper motor
Grinds up to 1.7 pounds of meat in 8 seconds
Small size
Low noise
Safety micro switch
Easy to assemble and clean
Includes antislip mat