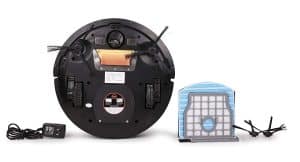 Another robot that keeps your tile clean without you lifting a finger is the Robotic Vacuum Cleaner by Minsu.
With its oversized suction mop and 310mm diameter, this robot boasts a large cleaning area. It can sweep, brush, and suction in all directions and its ultra-thin body can sweep under the bed, cabinet, and any hard-to-reach area.
Guess what?
The Robotic Vacuum Cleaner by Minsu has 11 sets of pre-electric eye probes, which keep it from colliding into other objects. A carbon film bumper strip protects the robot from impact.
Many users like that they don't have to be around–they can just schedule up to seven cleaning jobs per week. Even more convenient, the robot's battery runs for up to 150 minutes, then automatically recharges and resumes cleaning to complete the job.
Features
Includes 2000mAh lithium battery
310mm-diameter cleaning area
Dimensions: 12.4" x 12.4" x 3.93"
Comes with a remote control