The Roadie Standalone tuner is an innovative product that integrates with your smartphone to tune your instrument to the exact pitch automatically. The Roadie app on your phone makes all the pitch decisions. It's accurate and lets you choose from a range of popular tunings, with options for a range of string instruments from guitar to banjo to violin. It's also very easy to use. Open the app, put the Roadie over a tuning peg, and pluck the string. The Roadie will do all the work.
I repeat: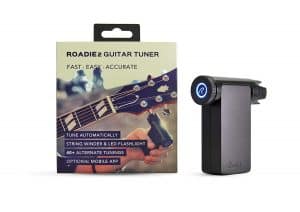 It does all the work.
The app itself is as responsive as any tuner on this list and accurate within tenths of a cent. You will be relying on your phone's microphone to capture your tone, however. Make sure you have a phone that's up to the task or else be prepared to fine-tune it by hand.
While it's easy to use, it's not necessarily quick to use for small adjustments since it needs to be placed on each tuning peg individually. Where it's most useful is in changing quickly from one tuning to another, automating the process so you can move seamlessly from one tune to the next through your set.
If you frequently switch between instruments or use alternate tunings, the convenience of the Roadie is well worth the price. If not, you can get similar accuracy and performance for a lot less from other options on this list.
Features:
Tunes any instrument with guitar-like machine heads (excluding a bass)
Built-in vibration sensor
Mobile app allows for custom tuning settings