Remington has produced chainsaws since the 1950s, and while they may get overlooked at times, the company is still going strong today. The RM25PS pole saw is more affordable than our other gas-powered picks and is considerably more powerful than an electric tree trimmer.
There are two models of this gas pole saw available with the 2017 and 2018 edition. While information is a bit harder to come by one the newer RM25PS, that's the model we chose for obvious reasons. It's still a gas saw in the homeowner class, but one that can do something our other pick can't.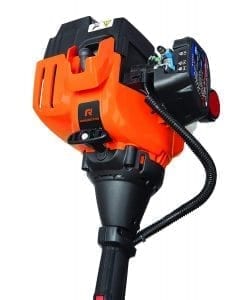 Before we get to the flagship feature, let's talk about what makes this one tick. The pole saw is powered by a 25cc 2-cycle engine that produces a top speed of 15.24 meters per second. It has an 8-inch bar and chain although you'll need to use a tool to set the tension. You won't have to deal with oiling the chain however as that process is handled automatically.
Remington uses their own form of "easy pull" tech in the RM25PS, so you won't dislocate your shoulder trying to start this pole saw. That's a perk, and you can leave the ladder behind as you'll get about 12 feet of reach depending on your height. The extension pole is 7 feet, and the saw itself weighs around 16 pounds. It has some heft, but the handle helps, and you can also use a harness.
What about that special feature?
Our favorite thing about this saw is its compatibility. It has the power head design, and while it's sold as a pole saw, the upper part detaches. As you'd expect, you can use it with other attachment heads from Remington's TrimmerPlus lineup which includes the usual suspects along with oddballs like a blower and a Power Broom. That's definitely different, but not the only cool thing.
While we haven't put this to the test, the company claims the Maverick RM25PS is also compatible with other tools systems. Ryobi pole saw attachments are said to work along with a few others. We could not find a list of any sort, so it's trial an error to a degree. That said, once you have the system in-hand and know the diameter of the extension boom, you should be good to go.
We feel this tool is best suited for consumers that are looking to do seasonal work, and don't mind a little maintenance during downtime. It does come with a 2-year warranty; it just isn't built like something from Husqvarna, Oregon or other top brands. The pole saw comes with a sheath, manual, and 2-year warranty out of the box.
Features
8-inch bar and chain
25cc 2-cycle engine
12-foot reach
CARB compliant