Most reviews of the Razor E200S Seated Electric Scooter were from parents and grandparents of children ages five through 13.
With a maximum rider weight capacity of 220 pounds, though, this scooter is "good for young kids to grow into" and great for college students driving around campus.
Parents admit sneaking rides on this scooter when their kids weren't around…and having "a blast!"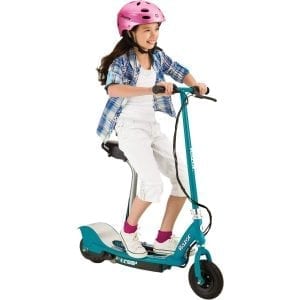 Forever young, right!?
The Razor E200S Seated Electric Scooter is safe, stable, sturdy, and smooth. Easy to operate, it's fun, fast, "maneuverable," and comfortable.
Although we did hear from two people who find the removable seat is uncomfortable.
Guess what?
Although easy to charge, the battery requires many hours to charge fully. Users are disappointed that after being charging overnight, the battery yields only 30 to 45 minutes of ride time or three to four miles of range.
What's more...
Many users note a couple of design/mechanical flaws.
First, the chain popped off for numerous riders, especially when braking suddenly and hard. The tension spring holding the chain on is weak and can fall out.
Second, the back tire seems prone to going flat.
Assembly is generally easy, but several consumers report their scooters arrived scratched, scuffed, dented, and perhaps even used–in torn and patched boxes.
To learn more about the Razor E200S Seated Electric Scooter's assembly and setup, watch this video.
Features
Weight: 46.4 pounds
Dimensions: 37" x 16" x 42"
Maximum rider weight capacity: 220 pounds
Minimum rider age (recommended): 13 years old
Motor: high-torque, chain-driven
Battery: 24-volt (two 12-volt), lead
Battery charge time: 12 hours
Ride time: up to 40 minutes of continuous use
Maximum speed: 15 mph
Brake: hand-operated, rear
Tires: 8", pneumatic
90-day warranty