Both pickleball instructors and newcomers recommend the Rally Tyro 2 Pickleball Paddle Set for beginners. This great starter set is economical and delivers good quality at a low price.
Why?
Players learning pickleball benefit from the Rally Tyro 2 Pickleball Paddle: it's lightweight, easy on wrists, and easy to control. The paddle has a high-tack moisture grip that's comfortable and just the right size for players with small hands.
A few reviewers find the grip a bit large and the handle a little short. Others (especially men) find grip too small.
What's more...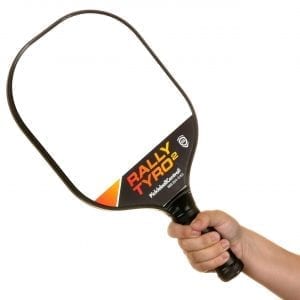 The Rally Tyro 2 Pickleball Paddle's white graphite face is standard size and has a fiberglass overlay. Its subtle nubby texture (which doesn't meet USAPA specifications) is great for practicing spinning. The paddle is well balanced for control and power.
Here's the catch:
Although the Rally Tyro 2 Pickleball Paddle is well-suited to beginners, unfortunately it also seems to be limited to beginners (or up to mid-level players).
Many people confirm this view, stating that the paddles are not very strong.
Two users report the handles breaking soon after starting to play.
Others describe indentations and marks on the paddle's face from its impact with the ball.
Maybe this model is good for newbies just learning to hit the ball, but not hard and fast yet.
People also dislike the raised rim around the paddle face (the guard, we assume) because it deflects the ball in a "crazy" direction.
Maybe these users should look at models without edge guards, like the Amazin' Aces BAINBRIDGE Pickleball Paddle (Pro Series) and the Wolfe XF Edgeless Graphite Pickleball Paddle. More on those in a bit.
In any case
The manufacturer has a 60-day return policy as well as a one-year warranty. This one also has flexible purchase options, so you can purchase one paddle or in sets.
Features
Set includes two paddles and four balls
Average weight: 6.8 ounces
Weight range: 6.7 to 7.0 ounces
Grip circumference: 4"
Grip length: 5"
Grip tack: medium
Grip style: flat
Paddle length: 15 5/8"
Paddle width: 7 ¾"
Paddle face: polymer composite enforced with fiberglass
Paddle core: polymer honeycomb
Edge guard: 1/8" overlapping paddle face
Made in the USA