A lot of times getting a good value means sacrificing performance, but that's not the case when you get the PureZone 3-in-1 Air Purifier.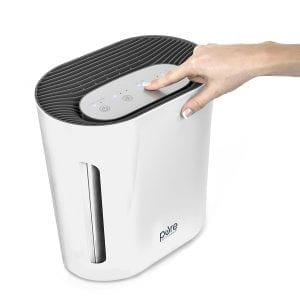 It's put out by Pure Enrichment, a relatively new company founded with the goal of creative attractive, high-quality air treatment that's priced in a range anyone can afford. No product demonstrates this mission quite as well as the PureZone Air Purifier, which gives you reliable performance and a solid build.
Unlike some of the other options on this list, the PureZone only uses one filter—but that one filter does the work of three, combining the standard pre-filter, HEPA filter, and carbon filter combination into one product.
You might think this would lower the quality of each filtration level, but that wasn't our experience. If anything, it just makes the unit easier to maintain, since you won't have to worry about installing multiple filters, or which filters need to be changed when.
This also lowers the long-term costs of the PureZone, since the replacement filters only cost around twenty dollars apiece.
What's even better?
The PureZone also has the user-friendly features you'd expect from a more expensive air purifier.
It has an adjustable three-level that gets down to an impressive 30 dB on the lowest setting. It can also be set to shut off automatically after a specified length of time, saving you both power and filter life. The inclusion of a UV light for sanitizing the air is really just the icing on the cake.
Our only minor quibble with this model is that it does have a pretty powerful plastic smell when you first unbox it. This will fade with time and use, but it is unpleasant and somewhat ironic for a piece of equipment designed to get rid of odors.
Having said that…
When it comes to smoke odors and particles, the proven combination of charcoal and HEPA filtration does the trick.
Features:
Coverage area: 200 square feet
Operating noise: 30-50 dB
Power: 60w/50Hz
Filters: 3-in-1 HEPA filter
Filter life: 6 months
Dimensions: 13.5" X 12" X 8"
Weight: 8.5 pounds
5-Year Warranty