Purelux is a company that specializes in making excellent products which are affordable and durable. The Tulip is a customer-favorite when it comes to kitchen faucets.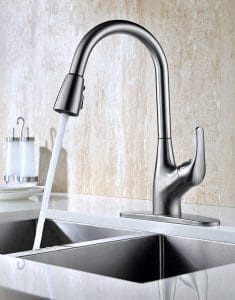 This amazing faucet has a simple and elegant design, and it's available in Brushed Nickel and Chrome finishes, so you can easily tailor it to suit your kitchen design. It can be installed in sinks with one, two, or three holes. However, the instruction manual that comes with the faucet is not detailed enough, so users who are installing the faucet on their own might have to look on the internet to find answers to some questions.
When it comes to installing the faucet, there is one other major point to be made. Many users have noted the water lines that are included with the faucet are too short, so measure beforehand or be prepared to make an additional trip to the store if the lines don't reach your lines. However, this isn't a deal breaker for most users.
The Tulip is an extremely functional faucet, with great care being taken to ensure flexibility. The extractable hose measures 20 inches, and the spout can be rotated 360 degrees, which makes cleaning in and around your sink very easy. The spray head is also self-retracting, so you can just let go once you're done, and it'll snap back into place.
The spray head also comes with three options. Firstly, there's the standard aerated stream option, which is perfect for filling pots and pans. Secondly, with the push of a button, you can switch to the spray mode, which can be used for various cleaning purposes.
Make note that the spray tends to be very powerful, so you might experience some splashing.
The third function of the spray head – the pause function – is very convenient when you want to take your spray head out of the sink for a moment; for example when filling pots.
The only major downside to this faucet is that the head is made of plastic, which doesn't speak to the durability but makes it feel somewhat cheap.
Features:
Dimensions: 8.4 x 2 x 15.7 inches
Flow rate: 1.8 GPM
Material: Composite
1, 2 or 3-hole installation
Available in 2 finishes
Spout rotates 360 degrees
20-inch hose
Low-lead compliant
3-function spray head
Neoperl aerator
Ceramic disk valve
Supply lines included
Includes fitting accessories
Includes flange for 1-hole and deck plate for 3-hole installation
Includes wrench and user manual
5-year limited warranty