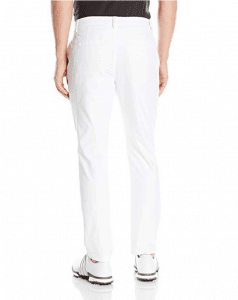 You don't even have to know sports to be familiar with Puma. As one of the best-known brands for sports gear, it boasts great golf pants as well. Check out the features of their Tailored Tech Pant.
Made entirely from polyester, these pants are stretchy enough to keep you comfortable even while playing. To make it even better, Puma uses dryCELL technology to make their pants sweat-absorbent, so you don't have to worry about getting carried away.
There's more:
When it comes to the way they fit, these are tailored pants. Puma golf pants are, according to our research, of the type that's never too loose, but these give the appearance of sophistication as well. With a gripper tape at the waistband, these pants allow you to keep your shirt tucked in.
We've found that some customers don't like the slim fit of these pants, so make sure to think about that before you make any final decisions. During testing, we've also noticed that the buttons aren't sewn in as well as they should be.
Features
Made entirely from polyester
dryCELL technology
Tailored fit
Come with gripper tape