If you're still with us and haven't found the best miter saw to suit your needs, you may have noticed several of our options are built to save space. Well, they don't hold a candle to the Porter-Cable PCXB115MS when it comes to that as this saw has a unique trick up its sleeve…
To say this saw is compact would be an understatement. It folds up when not in use, which dramatically decreases its overall footprint when it's time to store the machine. It comes with a small plastic stand to keep all the components off the ground, and while it isn't the sturdiest, it certainly gets the job done. We're also pleased to say it's a breeze to set up as you can see from the video below…
Obviously, the design does have a few drawbacks, but nothing extreme. The 10-inch Porter-Cable PCXB115MS has the standard 15 amp motor with a maximum speed of 4,500 RPMs. It is a single bevel saw, so you can only go from 0 to 47-degrees on the left. The miter range gives you a bit more leeway with 0 to 55-degrees to the right and 0 to 47-degrees to the left.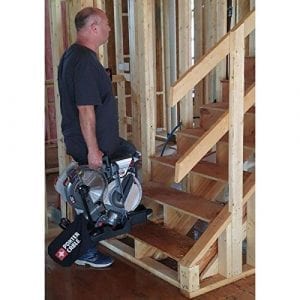 The cutting capacity for this funky miter saw is about what you'd expect with 2 x 6 and 4 x 4 stock at 0-degrees and 2 x 4-inch material at 45-degrees. It's not what we could call high capacity, but you'll get accurate cuts thanks to a built-in adjustable laser on the front. The design doesn't really allow for any other extras to note, but the laser is a welcome addition and unexpected given the price point.
You'll get the usual array of accessories with the PCXB115MS including a dust bag, manual, plastic base, blade wrench, clamp, and a carbide tipped blade. It has a solid 3-year warranty and is a nice alternative to traditional miter saws if you don't need an industrial grade machine.
Features
15 amp motor
Folding head
Adjustable laser guide
2-1/2" dust port