Porter-Cable's C2002 UMC is another pancake compressor built to light-duty work in the shop or around the house. The company didn't break any new ground with the design, but it offers plenty of value in a portable package.
The C2002 is an ordinary pancake compressor and is of average size at around 34 pounds. It has thick rubber feet on the bottom to prevent it from walking away from you and cut down on the sound when used on certain surfaces. Those feet also help to protect floors, so they are scuff-free.
A plastic shroud on top keeps all the vital components covered, although it's not the most durable setup we've come across.
Like a needle in a haystack…
While the company didn't put a horsepower rating on this product, we dug one up.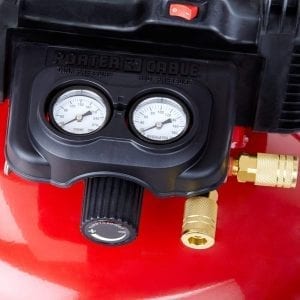 Unfortunately…
It's a bit disappointing. Check this out:
The running power is only .8 HP which puts it at the back of the back in terms of power. The oil-free pump and 120V motor are positives, however, especially if you don't dig maintenance or tripped breakers.
The 6-gallon tank on this compressor has a maximum PSI of 150, and the cut-in restart kicks in at 120 PSI. As for the SCFM ratings, you can expect 3.5 SCFM at 40 PSI and 2.6 SCFM at 90 PSI.
Not too shabby given the motor size!
On the downside…
The Porter-Cable C2002 is a bit louder than its 82 dBA rating implies. It won't run you out of the house, but it's far from what we would consider quiet.
Features for this compressor include dual quick connect couplers, a cord wrap, and a sturdy handle to help you lug the pump around.
It also has dual gauges to go along with a regulator and drain valve.
These are nice, but very standard features you'll find on all the best small air compressors. There are no standouts in the bells & whistles department. Nor will you get any extras in the box.
This compressor is a bit basic but, according to our research, performs as advertised with little to no maintenance required. It has a 1-year warranty in case things go south and we like the fact the company puts out solid user guides as well.
It's also an ideal choice for air-driven tools like the Porter-Cable PIN138, a 23-gauge Pin nailer that would be a great companion for your new compressor.
The C2002 is sold by itself or in bundles available with accessory kits or an 18-gauge brad nailer.
Features
6-gallon tank
Low-amp 120V motor
Water drain valve
Oil-free pump