This Philips product is, at a first glance, the best choice for a person that lives in an apartment, but still wants to cook some tasty steak on a grill. It's got a pretty good technology, a slick design, and it's built for an "inside job".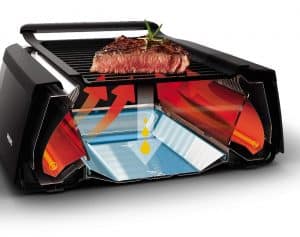 But does it surpass a market standard?
The Philips Indoor grill has an advanced infrared technology--while it's not as great as the TRU systems, it's generally efficient in searing a delicious piece of beef. One thing this technology surely does, however, is keep your indoors smoke free (well, as smoke free as cooking gets).
To top it off, the HD6371 maintains a consistent 446 degrees Fahrenheit temperature, the perfect temperature for searing. With that in mind, we should criticize the apparent lack of versatility, since there's not really a lot you can do with it. Although the small size means almost no maintenance at all.
What does a hands-on reveal?
Experts generally spoke against this Philips grill, since there's not really a lot you can do with it--no extra features, not a lot of room, just a plain ol' grill. Nothing to make it surpass market competitors.
Notwithstanding, people from our focus group loved the simplicity of this indoor grill, coming in favour of it, and we have to admit - it's easy to set it up, easy to use it, and if you're not into complicated recipes, it will do just fine. If this Philips product sparks your interest, learn more about it here.
Features
Advanced infrared technology,
Fast set up time
Consistent 446 degrees Fahrenheit temperature.