The Philips Norelco hair clipper is very light and fitted with what's known as DualCut technology which is supposed to perform two times faster than other models in the same range.
Even though it doesn't look very sturdy, this tool will cut through most hair types like child's play, with a turbo power button that enhances the cutting speed in case you need more speed and torque.
However, when it comes to really thick hair, even the turbo will not be able to get the job done as well as the heavy-duty models out there.
Also, when cutting short hair, the hair tended to get stuck on the blade. We had to brush it off every so often to avoid jamming.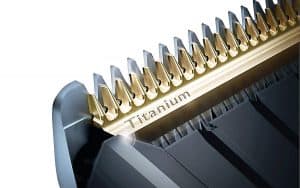 Just something to keep in mind.
The lithium-ion rechargeable batteries on the Philips Norelco take only an hour to charge, after which they can run for two hours straight. For longer use, you can use the machine while plugged in.
This clipper provides a length adjustment mechanism with 23 built-in settings ranging between 1-23mm with precisely 1mm between each length. For a closer shave of 0.5mm, all you need to do is remove the comb.
Here's the kicker:
It features self-sharpening and washable titanium blades that are easy to clean and do not rust even when washed.
Features
Rechargeable battery with up to 120 minutes of cordless use after an hour of charge
Turbo power button for increased cutting speed
Can cut as close as 0.5mm (1/32-inches) when the comb removed
Length adjustments from 1 to 23mm (3/64-inches to 7/8inches)
Comes with a battery light indicator