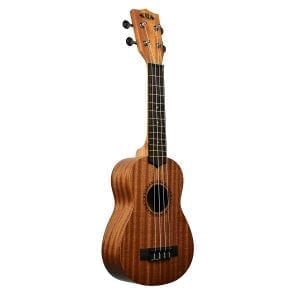 A starter kit can offer a great value to a beginning player. Not only do you get the instrument but all the other things you need to learn how to play it—things you may not have thought about picking up on your own. In the case of the Kala starter kit, you get even more than the carrying tote and Aquila Super Nylgut strings that come in the box. The kit also comes with the Kala Tuner app, downloadable on any phone, laptop, or tablet, and access to their website, where you can take free lessons on everything from how to tune to advanced fingering techniques.
The Kala KA-S soprano ukulele included in this bundle is hands down the best uke you can get for under $50. The construction is durable and consistent, easy to both play and tune. The compact size of soprano ukuleles, in general, makes them great first instruments for kids, and the playability of the KA-S makes it especially stand out in this regard. The action is smooth and doesn't require a lot of finger strength, which translates to practice sessions that feel like fun instead of work.
In terms of the build, this is a traditional soprano ukulele. The back, sides, and neck are all mahogany, with white binding and a rosewood fingerboard. The hardware is utilitarian. It's functional but not spectacular and is honestly the only place you can tell this is designed as a beginner rather than a professional instrument. Beginners may find it a bit tricky to tune at first, but once you get the feel of it you'll find the KA-S gives you a rich, mellow tone that belies its low price tag.
Specs at a glance:
Weight: 1.4 pounds
Body/neck: Mahogany laminate
Fingerboard: Rosewood
Hardware: Geared tuners
Included in the box: Tote bag, quick start guide, tuner