Nike has been creating top-quality shoes for quite some time, with models being constantly improved to give an even better user experience. Their Pegasus 34 has been ranked among the best footwear for running, but they're great for people with high arches, too. Let's see why exactly that is.
Engineered from synthetic and mesh materials, the uppers of these shoes make them lightweight, which is a big factor whenever we talk about comfort. Their Cushlon foam midsoles are at the same time soft and springy, making it easier to wear them without getting tired. But they also have something called Zoom Air units, which are tightly stretched fibers placed inside pressurized units. What they do is provide you with cushioning that's highly responsive to your foot shape and movements.
This is where it gets good: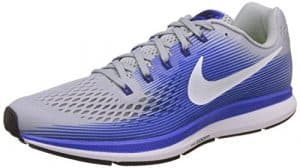 Pegasus 34 also boast Dynamic Fit technology, which is probably the most important feature for people with high arches. This technology uses cables to provide support wherever it's needed, much like the cables you can see on suspension bridges. As a result, you get a shoe that reacts to the needs of your foot, which is something our research has managed to confirm.
But that's not all:
These shoes have mesh sock liners that adjust to the shape of your foot, which makes wearing them all the more comfortable. The uppers are also made from mesh, allowing the air to circulate and in turn helps in keeping the feet dry. The rubber outsoles feature crash rails that act as cushioning devices for a much smoother walk. They also have waffle pistons, waffle-shaped lugs that help reduce impact and provide traction.
However:
These shoes aren't perfect. A lot of people find them too narrow, especially when their feet are wide. We've been told by people who are usually on their feet all day that this particular model doesn't provide enough support for such purposes. It's also not that durable when compared with some other models.
Features
Engineered mesh uppers
Dynamic Fit Technology
Zoom Air units
Cushlon foam midsoles
Rubber outsoles
Mesh sock liner
Rubber crash rails
Waffle pistons