Ever wondered what an alien robot would look like if it was a neck massager? We didn't, before checking this product out, but after testing the Naipo Neck Massager we would definitely award the title of Alien Robot Massager to it.
While the machine meets industry standard, with adjustable intensity, heat function, auto-shut off features and 8 trusty massage nods, this one truly exceeds in the flexibility area.
Why may you ask yourselves?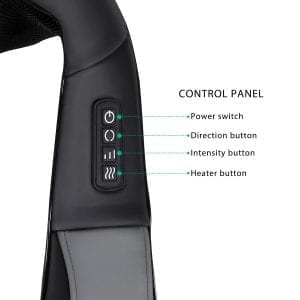 First of all, the cord is 9 feet long, ensuring mobility during use. Second of all, the perfect combination of size, packaging, and weight (only 3.5 pounds) lets you take your Naipo Neck Massager anywhere with ease.
As such, the biggest benefit is the flexibility of use, but we also have to praise this massagers' durability and balanced build.As a downside, we have to mention this product's roughness, even in the lower intensity setting, but that's just perfect for many people.
We smashed this massager a bit in our lab but found that it can take a beating. After taking the machine apart, we also noticed that the circuits are arranged in simple, efficient and durable fashion, so we have to give it a thumbs-up in that area.
The people we asked to test this product out were also happy, 90% of which said they would recommend it to a friend, but some complaining about the aforementioned roughness.
Features
8 Massage balls
3 intensity settings
Heat function
Bi-directional movements