If you don't want another pair of leather work shoes, it might be worth your while to check out Muck Boots. This brand offers top-quality rubber footwear with all the features necessary for a dry, comfortable day on the job. Let's check out their Classic Work Boots to see how they fair with the rest of the models.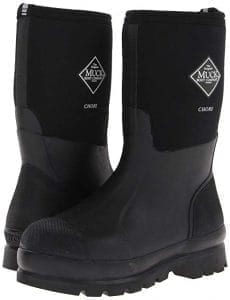 These shoes are made using high-quality 5-milimeter neoprene rubber. Apart from making them waterproof, this also helps them retain heat and adjust to the shape of your foot, improving both insulation and comfort. Rubber outsoles keep you from slipping on wet surfaces, which is very important when working in bad weather conditions.
Now:
What about safety? Unlike many of the other models, these boots come with both toe and heel reinforcements. While the toe parts are reinforced with three layers, the heels have their own four. As a result, you'll find it very hard to injure your feet while wearing these work shoes.
But there's more:
The interior of these boots features steel shanks, which make sure your arches are properly supported. This might not seem all that important at first glance, but it has a big impact on comfort as well. There's also the mesh lining that does a good job of keeping your feet dry and your shoes odor-free.
Of course, these boots aren't perfect. The biggest downside that we've managed to find is the fact that they're not all that durable – some say they've only lasted them a year. Apart from that, they're also not suitable for those with wider feet, at least according to reviews.
Features
5-milimeter neoprene rubber
Rubber outsoles
Steel shanks
Triple toe reinforcements
Quadruple heel reinforcements
Airmesh lining