The Wahter breaks the mold of the traditional wah pedal. With a tiny housing and a totally unique adjustable pedal length, it's a bit too different for some players, and if you're looking for a traditional wah pedal this might not be your bag. If you're looking for something that's compact and lightweight, though, this will definitely do the trick—and that's a rare find, considering wah pedals are often the biggest one on a player's board.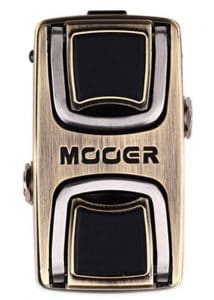 Instead of the traditional pedal mechanism, the Wahter uses a set of pressure sensors that can detect your foot before it applies any pressure. There's a more traditional operating mode, too, and the pedal can be extended if it feels too small for your foot.
Sound-wise, the effect is a classic rock wah. It has a wide sweep and a balanced, smooth tone. One disadvantage of the tiny size is that there's no room for shaping knobs. This can make it a bit of a one-trick pony—great at what it does, but not as versatile as some of the other options listed here.
You might expect something this small to feel fragile, but that's not the case with the Wahter. It's a solid little pedal, and definitely rugged enough to consider road-worthy. We were dubious about the sturdiness of the extendable pedal ring at first, but it seems to hold up even during aggressive use.
The Wahter isn't for everyone.
Certainly, but it's the epitome of a big sound from a small package. If you have way too much on your pedal rack, this little guy could be a godsend. The quality of both the build and the effect would be well worth the price at any size.
Features:
Operating Modes: Pressure sensors or traditional operation
Power: 9V AC adapter
Connections: ¼" monaudio input and output