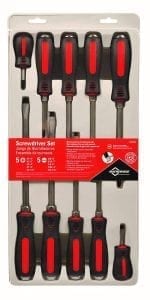 The Mayhew 66306 is a 10-piece screwdriver set that comes with five Phillip type screws ranging from #1 to #3 and five slotted screw heads from 7/32 inches to ¼ inch. We found this set to be comfortable to use, sturdy and very durable – a difficult combination to find in most screwdriver sets.
The ergonomically designed handles are capped and offer maximum comfort and maneuverability. The steel shafts extend all the way to the striking cap; therefore, you can use the screwdrivers as a chisel without damaging the blades.
The blades have shot blast tips for maximum grip and feature a hexagonal design, which makes it easy to attach a wrench in case you require more torque. The whole screwdriver set is heavy, weighing a total of 12 pounds.
As it turns out…
The May66306 performs much better than expected considering its price. The soft, triangular handles provide great grip and they will not tire your hands as you work. If you're looking for a screwdriver set that's close to the professional models but at a lower price, this is the way to go.
Features
Set includes five Phillips screwdrivers and five slotted screw heads
Comfortable triangular handles with capped ends
Hexagonal blades for more torque when needed
Shafts extend all the way to striking cap
Features shot blast tips