If you are a Makita fan but weren't necessarily bowled over by the basic Makita LS1221, this one may be more your speed. The MakitaXSL06PT is an 18-volt cordless miter saw that has all the bells & whistles you could ask for.
This 10-inch sliding compound miter saw spins blades at 4,400 RPM and has a brushless motor. It's efficient, which means you'll get more power from your batteries and it will last longer than its carbon brushed brethren. An electric brake quickly slows the blade down while some nifty built-in tech controls the speed and torque depending on the material you're cutting.
A saw that can adjust the speed as necessary is handy as it will power up when you're going through harder woods that would bog done a normal 10-inch saw. We dig the build quality on the Makita XSL06PT and think you will as well. It's mainly made from metal and what little plastic that's used is thick, not chintzy.
Work in a closet… or from a bench
The design of this saw puts it into the "space-saving" category as the "sliding" mechanism is fixed at the rear. You can set the back of this machine dead against a wall – something only a handful of other machines allow. This feature and the size of the saw itself make it perfect for jobs where space is limited and time is essential.
All the knobs and levers are easy to access on the Makita XSL06PT. The handle is nice and wide as is the trigger; it's a very easy saw to use. The bevel lock knob on the front is smaller than usual as well, which is a good thing in this case, and nobody is going to complain about the cutting capacity given its size.
The dual rail system and direct drive gearbox give you more vertical cutting capacity of 5-1/4". You can do nested crown up to 6-5/8" or crosscut a 4 x 12 post at 90-degrees. The bevel lock can go from 0 to 48-degrees left to right, and the miter settings are at 0 to 60-degrees both ways. Positive stops on this saw are set in the usual spots on the left and right sides of the blade at 0, 15, 22.5, 31.6, 45, and 60-degrees.
Do two batteries mean twice the power?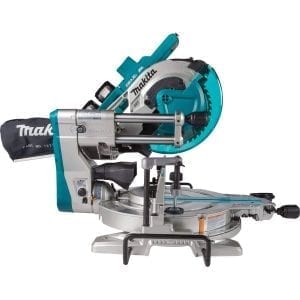 One of the first things you may notice when looking at the XSL06PT is the fact it takes not one, but two batteries. While that would be an advantage in many tools, it's an odd choice here. The batteries are 18 volts and 5.0Ah with a rating of 334 cuts per charge. That's about the average given its size, but those other saws only need one battery for a comparable runtime – not two.
Either way, the LXT batteries should provide more than enough power for a day's job, and you'll have two batteries to use with other tools from the company as well. It doesn't hurt that the rapid charger can bring that battery back to full in around 45 minutes either. Other features to note on this sliding miter saw includes a built-in laser to help you get a straight cut and a dust collection system that works better than others we've seen.
The Makita XSL06PT is one to consider if you're in the market for a 10-inch slider that you can use anywhere. It's a little heavy at 60 pounds, but portable and comes with more extras than most. You'll get the standard instruction manual along with a 5/8" 50 tooth micro-polished blade, a vertical vise, blade wrench, rapid charger, dust bag, triangular rule, and those two 18v lithium-ion batteries. It has a 3-year warranty on the tool, batteries, and charger.
Link for specs chart
Features
Brushless motor 4,400 RPMs
Automatic speed change tech
x2 18V LXT batteries
Built-in laser
Rapid charger