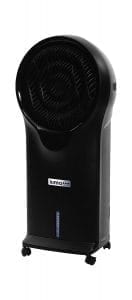 If you have a small to medium-sized room which needs cooling, the Luma Comfort EC111B is a great choice. Luma Comfort is a quality company with a sturdy reputation for making stylish and functional coolers, and this one is no exception.
The EC111B is a portable cooler, which means that it doesn't attach to a water supply line, but instead has a tank that's manually filled with water and ice. This unit is one of the few ones out there which have a completely removable tank. The tank has a two-gallon capacity, is very easy to remove, clean and fill, and the overall unit is very low-maintenance.
The EC111B can be used as a primary cooling source, but it can also be used as a supplemental cooling source, similar to how quality space heaters are used as a secondary heating option. This unit can lower indoor temperatures by as much as 30 degrees. It has a CFM of 500 and it's optimal for rooms of a size up to 250 square feet. The unit features rollers, which makes it easy to move around.
But hear this:
This unit also features a timer which can easily be programmed, and which saves both effort and energy. The EC111B features both a humidifier and a tower fan. The fan has three speeds and wind modes, including oscillation, and a handy remote control feature.
The display on the unit is very user-friendly, and we've found that even users that have never used an evaporative cooler have no problems adjusting the settings or programming the machine. The control buttons are simple and the control panel is easy to read, which makes it a great choice for older people.
And how about this:
One of the best features of Luma Comfort coolers is their stylish design. Our research showed that, when it comes to eye-catching design, this cooler is a top choice. Most other coolers have an industrial design, while the EC111B is a perfect addition to any interior decorating style. The unit is also quick and simple to set up – simply take it out of the box, pour water/ice in, and turn it on.
Since this product is meant to be used in small and medium indoor spaces, the size of the unit is small, and so is the size of the tank. As a result,  one of the downsides of this unit is that the tank needs to be refilled quite often.
Features:
Portable
Cooling capacity: 250 square ft
CFM: 500
Tank capacity: 2 gallons
Tower fan + humidifier
3 cooling speeds and wind modes
Oscillation option
User-friendly display
Programmable timer
Remote control
Removable water tank
Features rollers
Stylish design