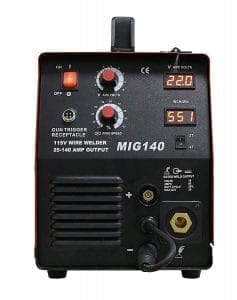 The Lotos MIG 140 is a 54-pound machine that easily connects to your standard home power outlet. In our experience, she runs a perfect bead of weld and is natural to operate.
The accompanying accessories are not the best you will find out there, and you might want to invest in a better helmet, nozzle gel, extra spool wire, separate spool gun for aluminum etc.
The wire feed runs smoothly even in non-ideal positions.
We found the digital controls and display fitted in this tool handy for controlling the wire feeder speed and voltage precisely. The ground cable is an upgrade from the previous version, and it makes it easier to switch polarities (-/+).
It also includes an overload thermal protection for safety.
Like the other models in this review, investing in an auto-dimming helmet and some nozzle gel for cleaning the splatter when using flux core would also be a good idea.
Features
Rated power output:140-amp; Input Voltage:110/120V
Designed for welding 24 Gauge - 3/16" mild/stainless steel and aluminum (using a spool gun, that needs to be purchased separately
Wire range: .025"-.030", solid steel; .030"-.035" (0.8-0.9mm) flux cored.
Package includes 1-year limited warranty; MIG gun, ground clamp cable, shield gas hose, argon regulator, .023" and .035" contact tips, welding mask, and spool wire.