The LU-T from Lohanu is a very similar product to the LU-C described above since it's the tenor-sized entry in the same series. The only reason it ranks lower on the list than the LU-C is that the tenor ukulele as an instrument is bigger and, as a result, more difficult for many to learn to play. The exception to this rule is a beginning player with large hands, who may find the more spacious neck more comfortable.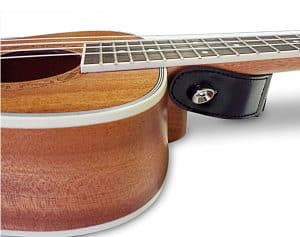 The LU-T is identical to the LU-C in most respects. It uses the same Sapele spruce and mahogany laminate for the body and comes with the same array of included accessories. The only difference is the size. A tenor ukulele looks more like a mini guitar than the iconic Tiny Tim soprano uke. This can make it a great "gateway" instrument for a child who's interested in playing the guitar but not quite big enough to manage one yet.
The larger size of the LU-T really lets you appreciate the aesthetic details. The etching around the sound hole is a nice touch that makes it look more hand-crafted than your typical beginner ukulele. The elegant wood grain finish, pearlized tuning pegs, and traditional white binding are other little touches that really put the LU line in a class of its own, compared to other options at the price.
Ultimately, tenor ukuleles aren't for everyone, and they are one of the less common sizes in popular use. If you're shopping for a tenor uke, though, you won't find a better value than the LU-T.
Specs at a glance:
Weight: 1.4 pounds
Body/neck: Sapele/Mahogany
Fingerboard: Rosewood
Hardware: Chrome die-cast geared tuners
Included in the box: Gig bag-style case, strap, clip-on digital tuner (battery included), spare Aquila Nylgut strings, pickholder, two picks