Backboard Size
Features a 44-inch wide backboard that's their trademarked Impact model. It's fade resistant with all-weather graphics.
Backboard Material
As their Impact Backboard, it's made of high-density polyethylene plastic that's UV protected.
Pole
The pole is a three-piece, powder coated steel pole measuring in at 2.75-inch diameter.
Adjustable Hoop
The hoop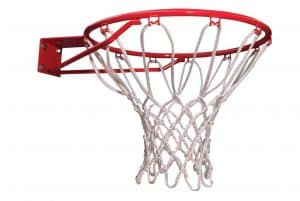 adjusts in six-inch increments from 7-foot 5-inches to 10-feet in total height. Bonus: you won't need tools to make fast adjustments on the fly!
Base Design/Stability
The base of this model is Lifetime's Pro Court base. It's one of the largest and also made of High-density polyethylene (HDPE). It's sized at 43.2-inches x 30-inches x 6.5-inches and is capable of holding up to 27 gallons of sand or water for optimal stability. It's designed as a heavy-duty portable base for easy relocation and movement.
Hoop Style
The hoop is fitted with the Lifetime Classic rim that's 18-inch in diameter and made of 5/8-inch solid steel and ½-inch steel braces.
Type of Net
This portable basketball hoop comes with an all-weather net that color coordinates with the hoop and backboard.
Warranty
This comes with Lifetime's standard five-year limited warranty.