This hoop stands apart among the 48-inch backboard grouping for its quality materials, rugged construction, and overall good looks and price.
Backboard Size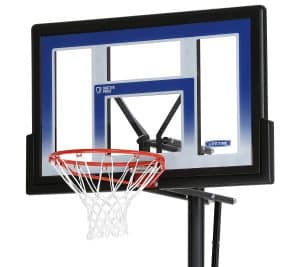 A full 48-inch sized backboard features attractive, fade resistant graphics, and has the good looks of professional glass without the risks of breakage.
Backboard Material
This Shatter Proof Makrolon portable hoop is one Lifetime's Fusion designs. It's a polycarbonate that can withstand some of the most rigorous slams and use without any breakage or fading.
Pole
The three-inch pole is the common three-piece design made of weather resistant and powder coated steel for longevity.
Adjustable Hoop
Lifetime's Speed Shift height adjustment mechanism lets you take it from 8-foot to 10-foot in six-inch increments without tools or risks of pinched fingers.
Base Design/Stability
The 31-gallon base is one of the most portable thanks to its heavy-duty design and rugged wheels. It's 46.6-inch x 30.0-inch x 8.2-inch in size and one of Lifetime's Courtside designs for optimal function.
Hoop Style
The hoop is in the trademarked Slam It design that offers double compression springs and a welded steel design that ensures the net hooks remain intact throughout years of performance.
Type of Net
Lifetime uses an all-weather net that's color coordinated to match the fade resistant graphics of the backboard.
Warranty
Lifetime's covers all components by a standard five-year, limited factory warranty.