It does look pro, but is it?
The Leupold GX-3i2 certainly has the trappings of an awesome product.
What you'll love about this rangefinder…
...is first and foremost the construction. It's made out of high-quality aluminum and rubber outings - durable and pleasant to grip. While you can still break it, it'll be much harder to do so with such qualitative materials.
The insides seem fine as well.
Lenses are well designed, but the best thing is the OLED display - it features the bare necessity, just to make sure you don't have an over cluttered look of the course.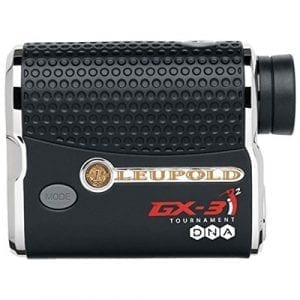 A really big plus of the device…
...is lock-in speed. While general measurements can take a few seconds to process, if you want to lock in on a flag you'll be able to do so really fast. When we tried the GX out, there were target acquisitions that took less than a second to compute and show up on the screen.
All in all, it does look like a product built for tournament use. Decent accuracy, not a lot of modes to struggle with, but lighting speed and compact build.
But where does it fall short?
A problem that might affect all users is the occasional lack of power.
What I mean is that sometimes, the product will just stop working. We didn't know what the issue was, but we took the battery out, and immediately after putting it back, it started working again. As a result, we figured there must be something wrong with the power circuit.
Just something to keep in mind.
Another thing that might bother you…
… is the display brightness. It's set really low, and you have no way of making it brighter (even at the cost of less battery life). This might not be a problem on rainy days, but if it's really sunny outside you might have issues quickly registering information on the screen.
Bad for having fun, even worse for tournament play.
Lastly,
While we didn't experience any issues with this, the product support for the device is notoriously bad. You can easily get in touch with Leupold, but their warranty and customer care policies are really annoying.
For example, you can get a lifetime warranty, but if it's been over 2 years since your purchase you'll only get small fixes, not a completely new product.
2 years of warranty is fine, you don't have to trick customers into thinking they're set for life.
Features
Laser Rangefinder
Decent Accuracy
Tournament Legal