If you're looking for the ultimate tool for instrumental volume control, the Lehle Mono Volume Pedal is the one you want. Rather than using traditional electronics, it operates with a magnetic Hall sensor. When you press the pedal, only the magnet moves. This limited interior motion means that the pedal won't wear out even after extended daily use.
There also aren't any mechanical pots inside the Lehle Mono pedal. In lieu of these typical components, you'll find a Blackmer Voltage Controlled Amplifier (called a VCA for short). The VCA reads the information conveyed by the Hall sensor and responds accordingly. Not only does the VCA give the pedal more precision, it also eliminates the pesky signal noise that you can sometimes get with electronic circuitry.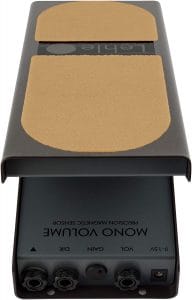 There is no frequency loss when you use the Lehle Mono pedal. You'll get a true sound and response throughout your instrument's range, again correcting one of the common complaints against traditional volume pedals, which tend to have a muffling effect on the extreme high frequencies.
You'll also get a boost function when you use this pedal, increasing the gain by up to 10 decibels. The volume control goes from -92dB to 0dB and gives you a smooth and consistent taper throughout that range. The auxiliary output is buffered, making it ideal for either a tuner or a secondary amp.
The exterior design of this pedal is more straightforward. All of the connections and controls are on the back of the pedal, including a dial for adjusting the gain. The overall construction of the casing is solid and consistent. Lehle pedals, in general, are considered to be practically unbreakable, and this model is no exception to this rule. No matter how rough you tend to be on your equipment, this little guy can take it.
When it comes down to it, the Lehle Mono pedal gives you exceptional power and precision compared to more traditional volume pedal designs. Whether or not this is worth the extra money you'll have to spend to get it really depends on your playing style and performance needs.
Specifications:
Dimensions: 11"D X 4.2"W X 2.8"H
Weight: 3.8 pounds
Input: ¼" mono
Outputs: ¼" main (mono), ¼" buffered direct out
Boost: 10 dB
Power: DC 9-15V or AC 7-12V power supply