The un-lazy Lazery Sleep Air Mattress stands tall (making it easy to climb in and out of) with "beefy", "sturdy" construction.
Thick and comfortable, the Lazery Sleep Air Mattress is a good "midway point between soft and firm." It's popular with senior citizens as well as adults at any age. People sleep well and wake up without a sore. Over several months an owner had multiple guests slept on this mattress and deliver a verdict: they (including a 6'1", 260-pound guest) unanimously praised it as the "best air mattress they've ever slept on." A 200-pound male user who slept on it for a few consecutive nights finds it very comfortable.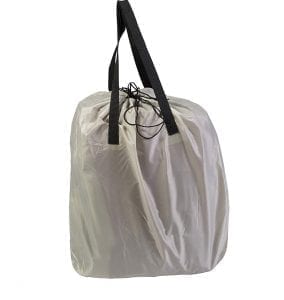 Well…
One reviewer acknowledges that while the Lazery Sleep Air Mattress can't compare to a quality regular mattress, it's a "decent" temporary option.
A soft top provides a "mattress" sensation instead of a "lying-on-a-raft" feeling. The mattress' seven levels of firmness are adjusted by remote control. The remote's cord could be longer for better reach by sleepers in bed.
Catch wind of this?
Although the Lazery Sleep Air Mattress hold air and remains firm all night for most, several find the firmness not permanent. Unless they add air a few times during the night, many users wake up on the floor in the morning. One person notes that the mattress loses a bit of air each day and without refills, the loss becomes noticeable between days three and five.
Which brings us to
In terms of durability, we found conflicting reviews. A few people have slept on it for over a year–often or nightly–and encountered no leaking. It's held up well under "extreme," "heavy," and "hard" usage, along with pouncing pets.
Unfortunately,
Many people had less positive experiences, reporting leaks and split seams within the first few uses, weeks, or months. One female sleeper used it 21 times within 10 months before it developed a leak.
One owner reports a mixed experience–the mattress worked well during the three times used in over one year. A 170-pound male adult who slept on it nightly but didn't jump or "do anything crazy" on it discovered a leak after two months.
Well, we are warned…
The manufacturer states that The Lazery Sleep Air Mattress isn't designed for long-term daily use, which weakens it.
It's simple to operate–just plug in and turn on. The internal pump (quiet for some, noisy for others) inflates the twin size in under three minutes and the queen size in under four minutes. This mattress also deflates fast for easy storage, although fitting it back into its bag can be tricky.
A few people note the Lazery Sleep Air Mattress tends to move around on the floor loudly as they shift during the night. Many people complain that the queen and twin sizes are smaller than expected and could be longer to accommodate tall people.
Nonetheless,
Many praise the Lazery Sleep Air Mattress' customer service in quickly replacing defective items.
Features
Dimensions: 73" x 38" x 18" (twin); 78" x 58" x 19" (queen)
Weight: 14.9 pounds (twin); 19.8 pounds (queen)
Maximum weight support: 300 pounds (twin); 600 pounds (queen)
Internal air coils: 21 (twin); 40 (queen)
Built-in pump
Includes carry bag
One-year warranty