When choosing a tower fan, one thing that can help thin the herd is design.
That's what initially caught our eye with the Lasko 4930 High-Velocity Fan. After digging a little deeper, it became a lock for our list and is a tower fan you should consider as well.
The 4930 clocks in at 15.6 pounds and measures 35" x 12" x 8.75" so it's safe to say it's stout, but designed to be efficient.
That's one thing many users agreed upon, and while it's a bit heavy, this fan is still easy to move around thanks to the handle in the back.
Is it really a high-velocity fan?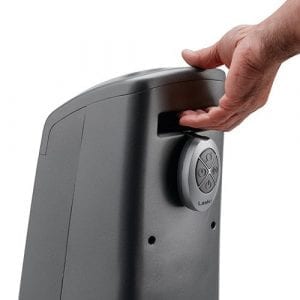 When you use the term "High Velocity" in the name of your fan, you'd better be sure it can live up to the hype.
Unfortunately, Lasko wasn't exactly forthcoming about the air power of the 4930. We managed to dig up the specs, however, and it tops out at around 400 CFM.
That's respectable, and it moves enough air to qualify for the blower class.
This fan doesn't tilt, but you'll get oscillation to go along with 3-speed settings and a sparse timer that does 1, 2, and 4 hours.
Aside from a small remote and the company's Blue Plug tech, which uses a safety fuse, that's about all there is to see with this one.
While that may seem like a downer, the Lasko 4930 is meant to push air, not bowl you over with features, so the company kept things simple.
This is another case where the CFM rating doesn't always tell the tale.
While the rating may seem low in comparison to other fans, it produces more air than taller models. You may not even need the high setting.
There are a few drawbacks.
It's louder than others, but not necessarily distracting and as we mentioned, it's heavy as well. You can get a rough idea of the sound levels from the user video below.
The Lasko 4930 High-Velocity Fan is only available in grey, but it's reasonably priced and comes as a single unit or in packs of two or three.
You'll get a 1-year warranty out of the box along with the remote a sparse user's guide.
Features
3-speeds
Timer
ETL certified
Remote control