Nicknamed the "Pillow-Top Mattress Chair" and the "Best Seat in the House" by the customers we talked to, the La-Z-Boy Niagara Reclina-Rocker Recliner is optimal for napping.
Are you a parent-to-be?
Is your family about to get a little bigger and you're looking for the PERFECT chair for your nursery?
Good news, your search is over.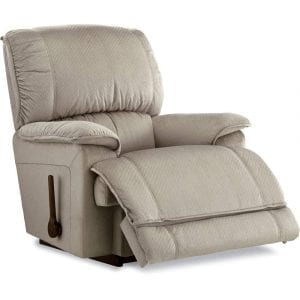 With its wide seat and rocking features, this La-Z- Boy comfortably sits both parent and baby. It's also ideal for following that "sleeping when the baby sleeps" tip while reducing the risks of co-sleeping accidents.
The Catch
It's kind of expensive. Totaling at over $800, it is the most expensive chair on our list…
But with that being said, La-Z-Boy has been America's favorite recliner manufacturer for over 90 years because of their high-quality and long-lasting chairs.
Is it worth it??
If money is a concern, you may want to look elsewhere. But if you're looking for the Best of the Best of the Best, this is it.
Its manual recline allows you to kick back with or without the three-position leg rest. And with the adjustable leg rest tension settings, you can customize the ease of your recline depending on your needs!
See for yourself how easy it is to operate with its wide range of reclining angles and footrest levels!
Other Perks
Since it's a La-Z-Boy, the Niagara Reclina-Rocker Recliner comes with a Lifetime Warranty for the metal mechanisms, springs/spring systems, base, and wooden frame!
So if you're looking for a chair that will last for generations, it might be time to get La-Z!!
Features
Lever Recline
Three-position leg rest with adjustable tension
Rocking feature
Dimensions and Weight: 39" (L) x 41" (W) x 41" (H), 82 lbs
Back Height: 19.5"
Seat Dimensions: 19" (W) x 21.5" (D)
Maximum Capacity: 300 lbs