I hope you aren't tired of high-tech integrated toilet and bidets.
I mean, how could you.
This is Woodbridge's answer to the quality of Bestazy's first and second picks.
All about those features?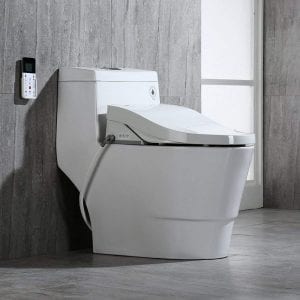 This toilet has a deodorizer, automatic flushing, and heated seating. All of these are reported to function extremely well.
The heating function uses technology that allows the seat to be warmed instantaneously when you need it. In reviewing this product we found that access to heat is in fact immediate.
The same goes for the warm water bidet.
You can also adjust the water temperature and dryer temperature.
The deodorizing feature means you can stop keeping that book of matches and air fresheners behind the toilet.
These features are controlled by a remote, which is included.
The design for this particular remote is a bit less sleek looking than the previous one, having a distinct early-2000s family desktop feel to it.
Should you buy this?
This toilet puts its emphasis on functionality rather than efficiency: there's no eco-flush option.
If you're someone who wants a smooth flush every single time without a hint on resistance, this might be the one for you.
However, the lack of the dual flush feature may be a deal-breaker for the more environmentally conscious consumer.
It may even be illegal to install non-high-efficiency toilets in your area. So this would also be a good option if you're looking to add a little adrenaline in your morning routine.
What did we really think?
At the end of the day, this is one of many high-tech options on this list. You'll need to look at each and decide which features are more appealing to you.
For this product, for instance, you'll need to decide if you'd rather flush or put your seat up and down. No toilet reviewed here has both.
Woodbridge's warranty page states there is a one-year warranty, which covers manufacturer defects only.
Features
Instant warming technology
Self flushing
Remote control