If you're like me you may have just chuckled at the idea of a toilet being "stately." But looking at this toilet, it is hard to deny that it has a certain colonial appeal.
Pardon me, Governor?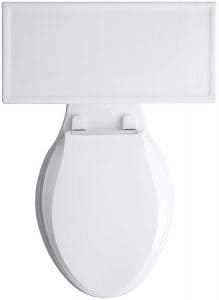 The traditionally porcelain construction is appropriate. And the large size adds a grandioseness to it (which may actually be a problem for smaller bathrooms).
This is one of the most attractive looking toilets on this list. It'd fit right in traditionally styled bathrooms.
But it's not just pretty.
There are other things to like about this toilet.
It has the same aquapiston technology as other products, which allows for a more powerful, quiet, and efficient flush.
The toilet flushes at 1.28 gpf.
The extra tall seating will make sitting and standing more comfortable for most adults.
Keep this in mind, though.
This probably isn't one you're going to want to install yourself. It's quite heavy, and several necessary parts and tools aren't included.
Also not included is the toilet seat, so you will need to purchase one of those before you, uh... get settled in.
That being said, this is an elegant toilet for a sophisticated bathroom.
This product comes with a short one-year warranty.
Features
Aquapiston flushing valve
1.28 gpf
Tall seating