This is another classic Kohler. If you're looking for those Kohler features but also want to save some money, this might be the right option for you.
You know these features.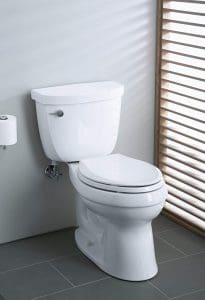 This toilet has the same aquapiston technology and canister flushing valve seen in other products on this list.
You can expect this toilet to flush with that same impeccable reliability. You can save water and avoiding clogs with this toilet, all while maintaining your peace and quiet.
But there are some differences.
This toilet is actually a bit taller than other Kohler toilets. That means the elderly or differently abled will find it more accessible. It will also be generally more comfortable.
It also differs in that it's a combination of two different toilet models. The tank and bowl are from separate units, which shouldn't matter. But you may want to keep this in mind if you need to buy parts in the future or are planning to install it yourself.
Speaking of parts, you'll need to buy both a supply valve and a toilet seat before you can install or use this product.
This toilet has a one-year limited warranty.
Features
Aquapiston
Canister valve
Extra tall seating