When Callaway clubs are just out of reach and Cobra or Pings aren't even a consideration, sometimes it's time to turn to lesser-known brands. The Knight 12 piece complete golf set for women is a slick starter set that's well built and affordable enough for folks just starting out.
Knight decided to keep the irons to a minimum in this set, so you'll get the 6-iron through the 9-iron along with a pitching wedge. The irons are sturdy with steel shafts and are cavity backed with perimeter weighting. While we don't have the measurements, the company says they are oversized. Either way, you slice it… the clubs look good and will hold up well as long as you don't get wild on the course.
In the woods department, there are three clubs with the driver, a 3-wood, and an unusual hybrid club. The driver has a 12.5-degree loft to go along with a lightweight, flexible shaft while the 3-wood has a 15-degree loft and a steel shaft. We believe the driver is around 44-inches long but are in the dark when it comes to the fairway wood and the funky hybrid.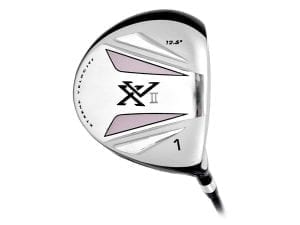 Why is the hybrid club unusual?
Normally, a hybrid club is meant as a substitute for one of the lower irons in your bag, and they have a number like 4H which lets you know which club it replaces. The hybrid in this set is labeled as a "4/5" which means it's meant to replace not one, but two clubs in your bag. It has a loft of 23-degrees, but that's all we know about this particular club for sure.
The pitching wedge and putter are both pretty standard, and won't win any awards for performance or design. Both have steel shafts like the irons, and the putter is in the blade style with perimeter weighting and a precision face. If you prefer a mallet putter, the Pinemeadow PGX would be a great option and has a price in line with the rest of the set.
There aren't any real extras to note with this set aside from two head covers for the driver and fairway wood. The bag is in the cart class with shoulder straps but sans legs or a kickstand. It does have an umbrella holder, however, and a 6-way graphite safe compartment top.
Details may be a bit vague for the Knight Women's Complete Golf Set, but it's a set consumer's love, and we can see why. The price point makes it perfect for beginners, and it comes with a 1-year warranty to boot. While we would have like to have had more than 9-clubs in the bag, it's enough to get you going if you dig the hybrid 4/5.
Features
9-clubs
Graphite shaft driver
Perimeter weighted irons
Cart bag