This is by far the most affordable pedal-style guitar tuner you'll find and has a compact design that fits easily on any rig. It doesn't have the same array of modes and features as some of the pricier pedals above. But if you just want a simple, accurate tuner, it will get the job done—and for a lot less money.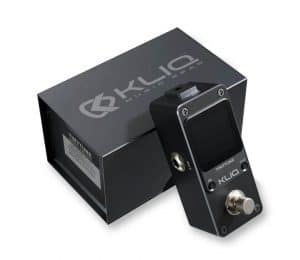 Accuracy is arguably the most important attribute of a tuner.
The TinyTune has it.
It responds quickly with a reading that's guaranteed to be within .5 cents of the pitch center. It can detect pitches as low as A0 and as high as C8, and gives you a wider calibration range than many tuners, up to 10 cents sharp or flat of A440. It can even accommodate drop tuning of up to four semi-tones.
The casing isn't just compact, it's also incredibly durable, constructed entirely of high-quality aluminum. The colorful display doesn't rely exclusively on LED lights for visibility, which makes it easier to read in any light conditions.
Features:
Tuning accuracy to +/-0.5 cent
Drop and flat tunings
Full-color display
Heavy duty switch