Like most tubs on our list, this product prides itself as having everything you need: spacious and comfy for your baby, easy to clean and portable. It's a basin tub that (partly) grows with your baby, promising an easy bath time for at least a few years.
Is this really the Holy Grail of baby tubs?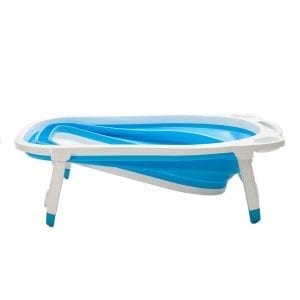 It's definitely good, but it also comes with a few downsides.
Let's look at the pluses for the moment.
Construction wise…
We loved that it's as compact as the product description claims. You're always a few clicks away from a folded tub that can be easily thrown in the trunk.
Even more so,
The "partly" growing with the baby system makes this piece helpful for a long time, even if you're going to have some issues in the transition period.
We'll talk about that in a bit.
If we're to wrap up benefits for your little one…
We should also mention that this tub has conveniently placed ergonomic surfaces, perfect for a baby's comfort. He'll probably still make a ruckus, but I guess you can hope for a reduction of that.
Worried about mommy's and daddy's comfort?
The Kidsmile bathtub has a well made, tight plug that allows for quick and efficient water drainage and cleaning.
Downsides?
The first minus of this tub has to be the (somewhat) faulty grow with the baby system. Only having two stages, some baby body types are bound to end up in a transition period.
What does that mean?
Well, it's possible that your baby will, at some point, be too large for the sling but too little for the big basin. If you want to avoid that, definitely go for a more complex grow with the baby system.
Other than that…
You should worry about the screws on the bottom of this product. They're not stainless, and as a result they are prone to rust discoloration.
Basically, you either spend some bucks to replace them or spend some extra time every bath to thoroughly clean them.
Features:
Basin Tub
Foldable
Grow With The Baby
Beautiful Blue Finish