The Keurig K475 is a high-quality coffee maker with a huge list of convenient features. It's a great choice for people looking for a customizable and programmable coffee maker which offers plenty of options.
The first handy feature of the K475 is the fact that it can brew five K-Cup pod sizes, as well as a Carafe (22, 26, 30 ounces). It has a huge removable reservoir which you can use to make as many as 18 cups. And with five different temperature settings and a strength control feature, you can choose not only how hot your beverage is, but also how strong it is.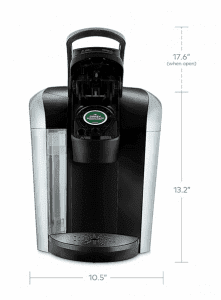 It gets better:
The responsive 2.4-inch touchscreen present on this coffee maker makes controlling and using the appliance very simple. With a digital clock and preset brew timer, you can choose when the machine turns on and off, so you can program it to welcome you with coffee in the morning, but you can also program it to turn off at a certain time and save energy.
The K475 also features a removable drip tray, so you can make coffee directly into a travel mug. This package includes a sampling kit of six K-Cup pods, and if you want to try out more varieties, there's always the Coffee Lover's Variety pack, which includes the 20 most popular types of coffee (two cups each).
Want more?
If you'd like a stylish place to store up to 35 K-Cups, the K-Cup Carousel is a convenient choice. It rotates 360 degrees, and the black powder-coat finish gives it a really classy look.
There are a few downsides to the K475, first of which is the short power cord, which is only 12 inches long. Another big downside that we have found is that this model is quite noisy when compared to other models on this list. Also, many users complain that the big reservoir is difficult to remove and put back into the K475.
Features:
Dimensions: 13.2 x 10.5 x 13.3 inches
Brews 5 K-Cup pod sizes (4, 6, 8, 10, 12 oz.)
Brews a Carafe (22, 26, 30 oz.)
Removable 70 oz. water reservoir
5 temperature settings
Strength control feature
4-inch touchscreen
Digital clock
Preset brew timer
Removable drip tray
Includes 6 K-Cup Pods
Includes a water filter handle and 2 filters