The Keurig K250 is a handy device which can brew a mean cup of coffee. So if you're in the market for a new coffee maker, check this one out.
The K250 is unique because of its sleek design. It's made to fit even very small kitchen counters, and we've found that many users get this appliance for their dorm rooms.
This model lets you choose between four cup sizes (4, 6, 8, and 10 ounces), and it can brew K-mugs and Carafe. It has a one-minute brewing time for any beverage, and it also lets you control the strength of your coffee with the strength control feature.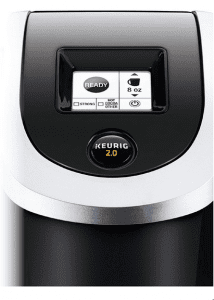 It gets better:
The removable 40-ounce water reservoir lets you brew as many as 10 cups before you have to refill the water. Granted, this is less than some other Keurig models, but since it's small and sleek, our research has shown that it's a trade-off many users are really happy with.
The K250 is controlled using the two-inch touchscreen that users report is very responsive. Overall, this appliance is easy to use and maintain. It even comes with replacement filters and a bottle of descaling solution.
The only big downside that we have found with this model is that the plastic outer construction makes it look quite cheap. Also, at this price range, and since this model has "Programmable" in its name, some users expected it to have a programmable timer feature, which it does not.
But there's more:
If you decide to get a Keurig coffee machine, and don't know which flavors are out there, this Coffee Lover's Variety Samplers is a great way to sample 20 of the most popular K-Cup flavors. This package includes two cups of each flavor, so you can find out what your favorites are. And the K-Cup Carousel is a very handy and stylish way to store up to 35 K-Cups. With its cool black finish, it's a welcome addition to any kitchen.
Features:
Dimensions: 15 x 9 x 13.7 inches
Brews 4 K-Cup pod sizes (4, 6, 8, 10 oz.)
Brews a Carafe (22, 26, 30 oz.)
1 minute brewing time
Slim and sleek design
Removable 40 oz. water reservoir
Strength control feature
2-inch touchscreen
Removable drip tray
Includes 4 K-Cup Pods
Includes a water filter handle and 2 filters
Includes a bottle of descaling solution