The Keter Folding Work Table is a compact and portable workbench that holds up to 1000 lbs. on its fairly spacious surface.
This workbench comes with a promise of being sturdy, but our research shows that the unit does have its limits. We came across a few cases where the Keter sawhorse did not live up to the expectations it laid out, and a lot of users found it a lot less sturdy than they'd prefer.
But here's the good part…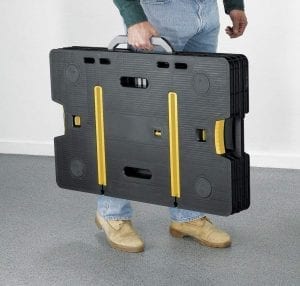 However, considering the low price this unit is available at in the market, we think it's a great product for new contractors and DIY enthusiasts. This sawhorse will provide you with a good base to start your saw work on.
This product features a quick-opening system that makes it super easy to stash and store the folding workbench in the smallest of spaces. We also found that it is pretty simple to reassemble the workbench in order to start working.
Moreover, the material this sawhorse is made of is better than most metals because it won't make your saw blades go blunt so easily.
The dimensions of this sawhorse are 85.0 x 55.0 x 75.5 cm, which is fairly large. It also comes with durable steel legs that provide steadiness to the workbench. However, some customers complain that the steel legs don't stabilize the unit much.
The unit comes with two 12 inch clamps to hold your project materials securely in place.
Features:
Supports a weight of up to 1000 lbs.
Includes (2) 12-inch clamps
Portable workstation
Unique quick opening system
Product dimensions (W X D X H): 85.0 X 55.0 X 75.5cms