This is an excellent option for beginners, as well as those upgrading from a lower-end paddle for the first time. This model will get you most of those high-end features you need for relaxed touring without breaking the bank. You can't go wrong with a carbon fiber kayak paddle.
With this model, you'll be getting the best materials without all the frills that can run up the price. The shaft is 100 percent carbon fiber and the blades are a carbon reinforced polymer.
These blades aren't quite as firm as some of the other high-end carbon fiber kayak paddles, but you'll certainly notice an upgrade in feel if you are switching from aluminum, plastic, or wood. The blades are asymmetrical and dihedral, so you shouldn't notice any flutter.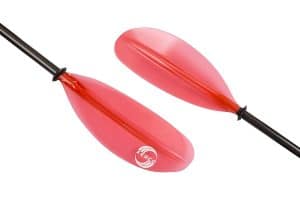 If this is going to be your first high-end paddle, allow me to introduce you to a product you are definitely going to want. A kayak paddle leash will keep your paddle connected to your boat so that no matter what happens out there, your shiny new paddle won't get lost.
A kayak paddle leash is a necessity if you plan on getting a premium paddle.
This paddle weighs 29.3 ounces.
What's the downside?
There are a couple.
First, you should know that this carbon fiber kayak paddle only comes in a single size--230 cm. That means if you fall outside of the recommended height range for a 230 cm paddle (see: What You Need to Know), then this is likely not the paddle for you.
Second, there have been a couple reports of breakages in normal use among other reviews. Although you'd likely receive a replacement, this could be bad news if you are deep into a tour.
No warranty page was available for this product, however Kerco states that they'll replace the paddle within the first twelve month if there are any breakages.
Features
Carbon shaft and blades
Asymmetrical, dihedral blades
Adjustable feathering