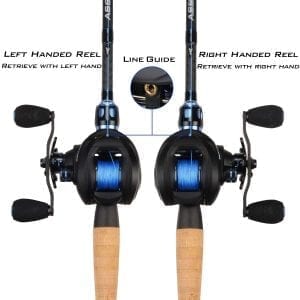 This baitcaster does an excellent job on several levels. It's a great option, as long as you don't plan on fishing for anything particularly huge.
The drag pressure on this baitcaster sits at 16.5 pounds which would be enough for most tournament styles.
This is an extremely light baitcaster--the lightest out of the KastKing manufacturer. This is accomplished through super lightweight carbon material.
These materials also have the added benefit of being highly resistant to corrosion, which makes this an extremely durable baitcaster.
Wait, there's more!
This caster has a hybrid dual brake system which employs both magnetic and centrifugal systems. This is something we usually only see in much more expensive options, so this addition really ups the value of this product.
Testers found that this product did very well in windy environments, especially compared to other casters at this price point.
The spool is a little bit small for tournament-ready baitcaster. You'll only have room for 85 yards of line using a 15-pound line. After just a couple line snaps you'll almost certainly find yourself with a shortened casting range.
This very affordable baitcaster operates very well with a casting pole such a this one.
This product has a one-year limited warranty for defects in manufacturing.
Features
Dual brakes
11 corrosion-resistant bearings
Matte black finish