If you're the type of person who can't have nice things because you break them easily, this is your ping pong table. It's easily the least expensive table on our list, which also makes it perfect for beginners. Or as a gift for people you don't really like.
This JOOLA ping pong table is a midsize table, which means that it's about 2/3rd the size of a regulation table. However, the height is the same as regulation. After all, you don't want to throw off your game.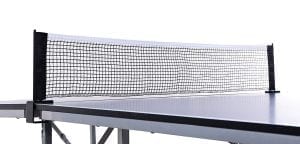 For those of you tight on space, this is the perfect table. Whether you're living in a small apartment, or plan to use this in a dormitory room, kids room, or bathroom, the compact size and lightweight design make it the perfect option if low on space.
It's also very light and easy to store. Simply fold it up and stash in a closet or even under a bed. When folded, the dimensions are 3' x 3', and the weight is an easy-to-manage 62 pounds.
This table also comes pre-assembled, meaning you'll get to enjoy a game much quicker than with most other tables on our list. Its connected folding legs simply unfold and lock into place. The screw-clamp design net is also a breeze to attach. And it's surprisingly sturdy.
The playing surface is smooth and level. And talk about versatility. You can separate the halves and use them as card tables, game tables, or extra-large TV dinner trays.
Whether you're light on cash, or light on space, this ping pong table will allow you to scratch that ping-pong itch whenever you like. And even though it's small and less expensive than other tables on our list, the quality is what you'd expect from JOOLA.
Specifications at a glance
72"L x 36"W x 30"H
Lightweight: 62 pounds
Storage dimensions: 36" x 36"
Features at a glance
Halves are great as separate multi-use tables
Comes 100% pre-assembled
Compact storage
Regulation height
Custom net set with classic screw clamp design
Sturdy Folding Legs