The HealthPro Plus reviewed above is the top of the line as far as what IQAir has to offer, but it's not your only option from the company if you're shopping for a great air purifier for smoke. The HealthPro Compact is from the same product line and gives you the same medical-grade filtration power that's perfect for allergy and asthma sufferers, with a few key differences.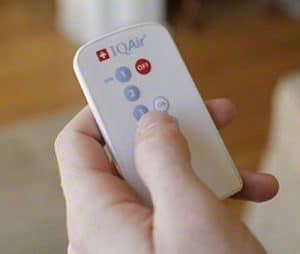 Now when this model says it's compact, that's relative to the other options in the HealthPro line. It doesn't include the charcoal filter that you'll find on the other HealthPro air purifiers, which makes it about ten pounds lighter.
The dimensions are also slightly smaller, making it less obtrusive in your space, although it's definitely not what you would call small.
The flip side of this is that it only uses two filters, instead of the three that are on the HealthPro Plus. The pre-filter and HEPA filter are still enough to clean smoke from the air and remove most of the odor, but won't be as effective against heavy smoke smell as the larger versions.
Having said that, if you're getting the air purifier to remove irritating particles from the air, this will work just as well as the other IQAir models.
Of course, one of the first differences you'll notice between the HealthPro Compact and the other options in the product line is the price. It's about a hundred dollars cheaper than the HealthPro Plus—a pretty significant difference.
If you don't need the deep cleaning power you'll get from a charcoal filter, this is a great way to get professional filtration for an impressive value.
Features:
Color options: White, light gray
Coverage area: 1,238 square feet
Operating noise: as low as 25 dB
Power: 50-60 Hz (120v)
Filters: HyperHEPA H12/13, PreMax pre-filter
Filter life: Up to 2 years
Dimensions: 24" X 16" X 15"
Weight: 25 pounds
10-Year Extended Warranty