You'd be hard pressed to find a better deal than this inflatable kayak today.
Although this kayak may not sport some of the durability, tracking, and other attributes of more expensive models on this list, it does get the job done quite well.
Let's look a little closer.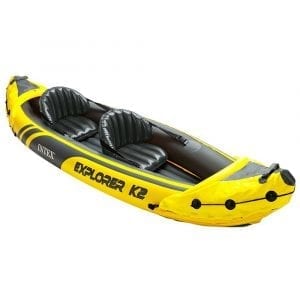 This two-person kayak is 10 feet 3 inches by 3 feet. It can support up to 400 pounds.
We thought that the removable skeg was a great decision in this flatwater kayak. It was a nice efficient way to improve the tracking of the kayak without adding much to the overall cost.
The same goes for the I-beam floor construction. The rigidity of this structure allows the kayak to track much better than it would otherwise.
However, you may be somewhat disappointed by the overall tracking of this kayak if you are used to hard shells or less affordable products. For this reason, this is an awesome starter kayak, however it might not be great for a highly advanced kayaker.
Either way, you'll probably be pretty surprised how well this kayak handles for the price.
There were a couple things that worried us.
We were not able to confirm what type of materials were used in this kayaks' construction with regard to the coating. It seems likely that it's PVC, however it could also be Nitrylon.
We also weren't particularly excited that the manual said to expect regular punctures.
Despite this, reports have been good with regard to the life of the product and durability.
The previously mentioned I-beam floors give the kayak more durability and firmness. They're great if you want to take your dog along for the ride, as they are strong enough to prevent punctures.
If you do end up with a puncture, you should be alright. Two chambers cause the boat to deflate more slowly in the event of something like that, so you'll be able to make it to shore.
Additionally, this kayak does include a repair kit, so you'll be able to get back out on the water within a few minutes. The kayak's manual has more information and instruction on patching.
Assembly is simple.
Don't worry too much about set up. Our testers found this to be a really easy kayak to inflate and get on the water quickly.
If you still have reservations about difficulty with set up, you can watch two little girls do it with ease, here. ?
This kayak includes two paddles and a pump. And don't forget to keep any passengers aboard the USS Intex Explorer K2 safe with a quality life jacket.
We weren't crazy about this kayaks short 90-day warranty.
Features
Removable skeg
I-beam construction
Rigid bottom
Paddles and pump included