This is another high-tech toilet, and a great option if you're in the market for something a bit bigger than the last toilet.
Custom settings!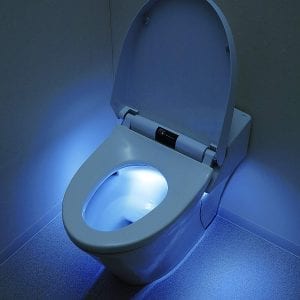 Customization is king with the INAX Spalet. you're able to choose between six different bidet water temperatures, ocelations, messages, and pressures.
There are six seat temperature settings, as well.
You can adjust these settings on the included metal remote.
Specs inbound.
The toilet itself is made of high quality ceramic.It flushes solids at 1.32 gallons per flush. It has a second setting for liquids, which flushes at .92 gallons per flush. For such a well engineered toilet, this could be better.
It is also sits almost a foot higher than our last toilet. Most people will have a much easier time sitting on and standing from this one.
It is almost 90 pounds, so you may want to call in the professionals to install the toilet, or at least a second pair of hands. It should be okay on any bathroom surface.
A complete list of measurements can be found here.
But what about the features?
This toilet is very sanitary. Having an automatic seat means you'll never have to touch anything if you don't want to.
It's also self cleaning and deodorizing.
Nozzles at the front and back of the toilet keep the bowl clean around the clock. So this may be a good product for you if you'd like to limit maintenance while maintaining a high level of cleanliness.
We found this cleaning feature was high functioning.
The deodorizer did help reduce the amount of smell, as well. If you're someone who really doesn't like to follow a stinky family member, this may be a really good option for you.
The Spalet also includes a night light inside the bowl. No more late-night messes.
If you want a high-tech toilet without some of the more extraneous features of the last one, this may be a good option for you.
And while you may not find an FM radio or Bluetooth in this toilet, it does sit a bit higher. Some buyers may be even more comfortable in this option.
Does it have a solid warranty?
The warranty lasts three years and is void if the toilet is moved from its initial install location.
Features
Automatic heated seat
Three bidet settings with six options each
Auto-cleaning
Nightlight