This is one of those ice chests designed for all kinds of weather conditions. Its name says it all, because it's really "super tough".
The Igloo Super Tough STX can retain ice for about six days, after which you'd need to refill it. The manufacturer claims the ice chest has an ice retention period of seven days.
But we're no so sure about that.
We contacted several users who told us six days is the optimal period for this ice chest, although they don't rule out the possibility of the seven-day period.
One thing, though.
In order to get the best out of the Igloo Super Tough STX, you'll need to make sure the ice chest is properly closed.
Several people have complained it requires to be checked regularly in order to do the job. If you don't check them and make sure the lid is in place, you might miss a gap – and some of the cold air will escape.
But here's what's great about this ice chest.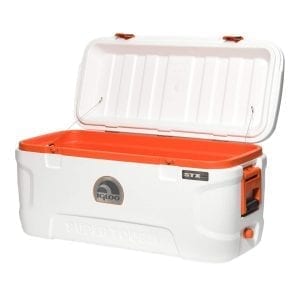 The body is very strong, which means it can handle all kinds of pressure really well. This is great if you like camping in extreme weather of rough terrain, because you won't have to worry about the Igloo Super Tough STX staying intact.
It looks really nice, and has a modern feel to it. You also have built-in cup holders, and sturdy, nice-looking handles.
Also…
Dual or "hybrid" latches are made of stainless steel, adding to the overall build of the Igloo Super Tough STX.
The ice chest is also protected from damaging sun rays by its UV inhibitors and the lid is fully foamed. The lid is also secured by dual straps.
The drain plug is really great because it's simple and has a stainless-steel tether – so it doesn't get lost.
The draining is easy and quick and you shouldn't have any problems with it. Also, if you want to use a hose for draining, you can attach one.
Any additional features?
Yup. There are four molded-in cup holders on the lid, as well as a fish measurement ruler (if you're into fishing, this is just the thing for you).
But there are some issues...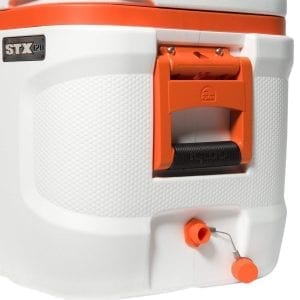 First of all, the latches on the Igloo Super Tough STX can break too easily, especially if you're not paying attention, or if you're new to this technology.
Several users have complained that, although well-made, the latches can be a bit of a problem – which usually comes as a big surprise.
This also goes for the hinges. They should work properly, but don't seem to be made for an ice chest of this caliber.
Also, the latches need to be well placed in order to work.
Some users think the latches aren't the real problem. According to their experience, the ice chest doesn't have the best type of insulation.
It holds ice, but this really depends on the weather on a particular day.
So, does it make the cut?
The Igloo Super Tough STX is a well-made ice chest, with a solid body and nice design, but it underperforms a bit when it comes to ice retention.
You do have a 3-year warranty of this model, and you can learn more about it here.
Features
dual stainless steel latches
38.2 x 17.9 x 18.2 inches; 18.98 pounds
UV inhibitors
fully foamed lid
hose-compatible drain plug
side handles
cup holders on lid
fish ruler on lid