Besides sounding like a sci-fi video game town, Hyperikon also produces high-quality LED garage lighting systems. Their products are bright, efficient and good looking, but let's see if they "survive" Bestazy's hands-on.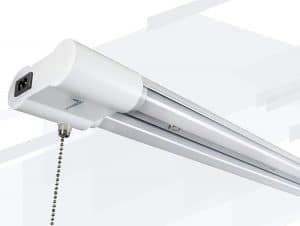 The lamps come in a 4-pack, or a 1-pack and they feature 4000K light temperature, not the hottest out there, but pleasant enough to feel at ease in your garage. With a consumption of 38 W, these lamps can output 4000 lumens, making it efficient enough to produce 105 lumens for each watt consumed.
They have good numbers, but we also have to praise the aesthetic curvy design of the fixture, and they're easy to install (as long as it's not on a ceiling joist).
If we're to talk downsides, the Hyperikon LED lamps are hard to install on a ceiling joist, and the rivets needed for set-up are poor quality.
How did the Hyperikon fare in our lab?
We had a pretty good time testing these out - they're bright, plus, the color and design are appealing and pleasant to look at.
This stance was mirrored by our focus group members, yet experts complained about the aforementioned installation issues - hard to place on a ceiling joist and poor rivets.
To add insult to injury
An engineer we talked to stated that he used these lamps in the past and that they sometimes have issues turning on.
With all of that in mind, however, the products are overall qualitative.
Features:
Featuring 4000K light
38 W consumption
4000 lumens.